Posts: 60
Joined: Mon Jan 30, 2017 12:01 am
Team: BTB Racing
What's everyone's graphic settings and nvidia settings?
---
Posts: 15182
Joined: Mon Dec 29, 2008 4:30 am
Team: Race Tech/SD
Location: Wisconsin, U.S.A
For normal use: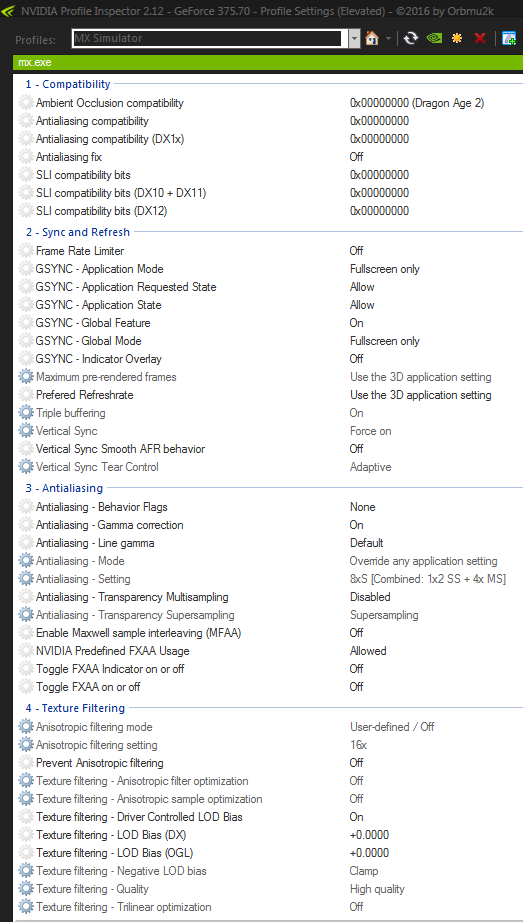 For screenshots I increase AA to 32xS and max in game settings, normally 512x512.
TeamHavocRacing wrote:If I had a nickel for every time someone asked for this, I would have a whole shitload of nickels.
---
Crushed Dissenter
Posts: 745
Joined: Fri Jul 03, 2015 5:17 pm
Team: VlastMX
Location: Right Behind You....
Contact:
AS LOW AS THEY GO
---
Posts: 908
Joined: Sat Mar 28, 2015 2:49 am
Team: Dabaum Designs
Location: Fort Wayne, Indiana
Contact:
sethiemeboi wrote:AS LOW AS THEY GO
---
---
Return to "General Discussion"
Who is online
Users browsing this forum: Halvorson and 10 guests