Posts: 47
Joined: Sat Oct 01, 2016 4:02 pm
Team: GoDaddy.Com
Contact:
I messed with my setup and got it pretty good except for the fact that when I turn the bars left and right it is so quick. I cant stand that because my front end always knifes and I flip. I'm about to give up on the game its so annoying. Any suggestions would be nice.
---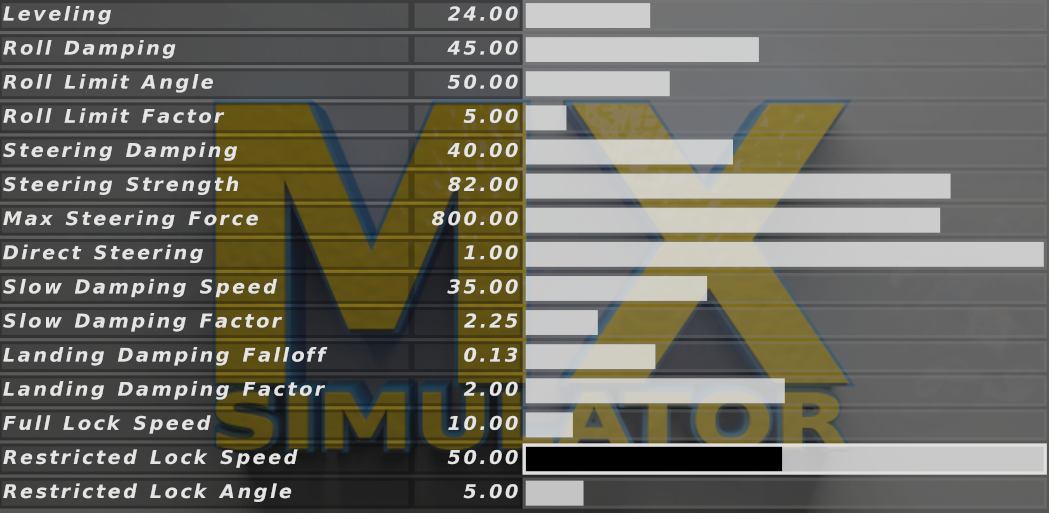 [center][b]|[/b] 2013 EMF MX1 Champion - 3x rF 450 MX Champion ('15/'16/'17) [b]|[/b]
[url=http://www.youtube.com/Lnxamxs]Youtube[/url] [url=https://www.twitch.tv/lnxa]Twitch[/url]
"I hit my desk too hard again and my game crashed" -Rush[/center]
[img]https://yip.su/1w7sq7[/img]
---
Posts: 47
Joined: Sat Oct 01, 2016 4:02 pm
Team: GoDaddy.Com
Contact:
Thanks Jesse! That feels better could be a little more stable like jumping. It feels kind of twitchy and I seem to jump nose high and across the track. Id like to get it to feel a little bit tighter and not like Im doing a back flip every time I hit a jump. I think that will be a suspension thing? Anymore help is apreciated
---
Posts: 374
Joined: Sun Jul 16, 2017 10:43 pm
Team: Privateer
Location: Pacific North West
You have a few options.
1. Increase you rolling dampening and see how it feels.
2. Increase your direct steering and see how it feels.
3. Increase you slow dampening factor and see how it feels.
4. I also like my roll limit factor high at around 25-35 depending on how much I fall off in a session and get pissed so I'll crank it up. lol.
5. You can also increase you leveling I run 25 now but I;ve ran 30 and 35. When it was 35 I had to decrease the roll dampening and increase the steering strength and the max steering force. It was a solid feeling however laying the bike over felt fake and I was getting really consistent laps I wanted a change in direction that will allow me to grow more in the long run.

People will tell you that the advanced doesn't matter when you're new but they lie. lol. I played the game for a couple of months and can run like 20-30 seconds off the pros. I'm not as fashionable nor have as much experience as them but in this game the feeling and being comfortable on the bike matters. Just like real life.
As far as suspension I'd start with Kellen's at Start your System and loosen it up a little for MX riding. It's a great base!
Also, watch what the bike is doing. If you're going too far nose down in the chop think about it, your fork is being allowed to compress too much making your front end to dip. So you could increase the dampening on the compression on the fork which won't allow it to compress as much.

It sounds crazy but as you're riding when testing watch the bike (I ride in 3rd person so this helps) and then think about what you need to do to counteract this and make it right.
Some tracks may have more chop and you might have to adjust slightly from track to track but I'd get a good base first.
Play around with it and become knowledgeable. Those who say don't touch it are dumb. You'll gain far more experience in the long run!!

See you around!!
---
---
Return to "General Discussion"
Who is online
Users browsing this forum: No registered users and 4 guests