Here's a large pack of p2sta's wheels which I've made some changes to.
Edited LOD's to have less geometry, they are much more aggressive than before
Less reflections on hubs and rim surfaces
Resized front rotor to fit in most rotor guards
Reduced dirt on tire texture
All spec maps are 512x512
If you like numbers here's a breakdown of the LOD geometry.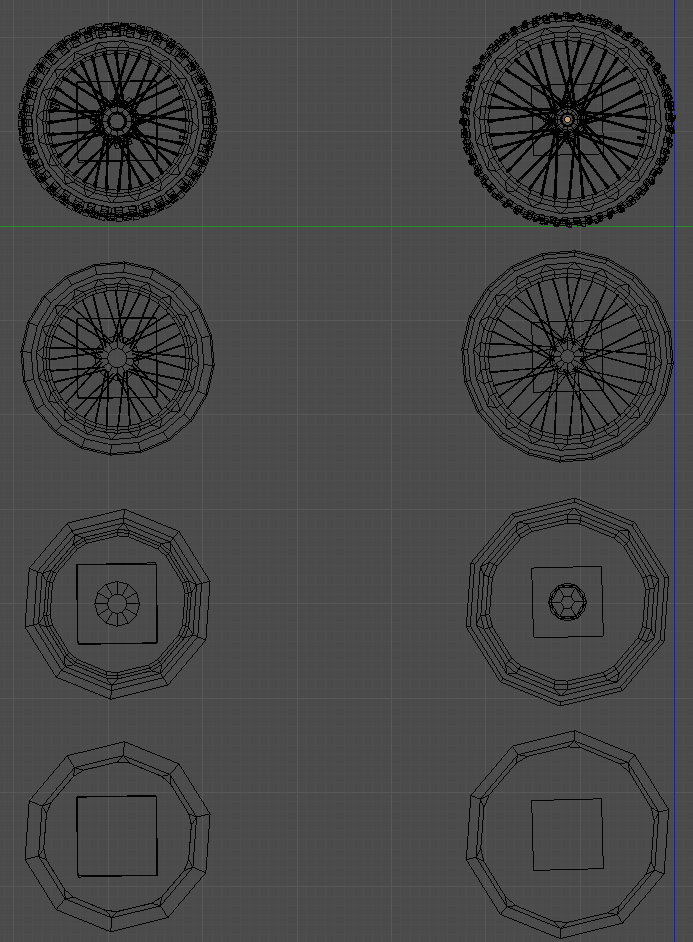 Compared to DJ's wheels:

The pack includes
111
color combos, covers a bit of everything but doesn't include every possible combo of the colors used.
NOTE DUE TO THE AGGRESSIVE FIRST LOD (NO KNOBBIES AT ALL) IF YOU USE A LOWER MODEL GEOMETRIC DETAIL (<50) IT WILL LOOK LIKE YOU ARE RUNNING SLICKS IN 3RD PERSON CAMERA!
I removed all knobbies from the first LOD in an effort to reduce as much geometry for your game as possible. I don't use weird 3rd person so it doesn't affect me anyway

. If raising the model geometric detail to a value that this doesn't occur to your own bike isn't an option, you can change the LOD number in the saf using notepad to 5 (it is currently set to 4; 6 and 7 are the others used)
i.e. rear_wheel-p2staEdit_lod4.jm becomes rear_wheel-p2staEdit_lod5.jm
jlv wrote: tree.jm < 2 feet
tree_lod1.jm 2-4 feet
tree_lod2.jm 4-8 feet
tree_lod3.jm 8-16 feet
tree_lod4.jm 16-32 feet
tree_lod5.jm 32-64 feet
tree_lod6.jm 64-128 feet
tree_lod7.jm 128-256 feet
tree_lod8.jm 256-512 feet
tree_lod9.jm > 512 feet

If an lod is missing it will use the next higher lod.
Obviously I didn't test every skin, but I'm pretty confident they all work. If there are any problems let me know.
Download