Red Bull KTM Factory Racing #222 Tony Cairoli MXGP
Spent quite a few weeks editing some awesome templates to bring TC222 to life for all to enjoy.
Let the RV2 / TC222 battle continue !!! - see previous RV post: viewtopic.php?f=25&t=35506

Many thanks to the support from some of the best creators in the game.
A special thank you to Tooh't who's gear creations are always outstanding and on point.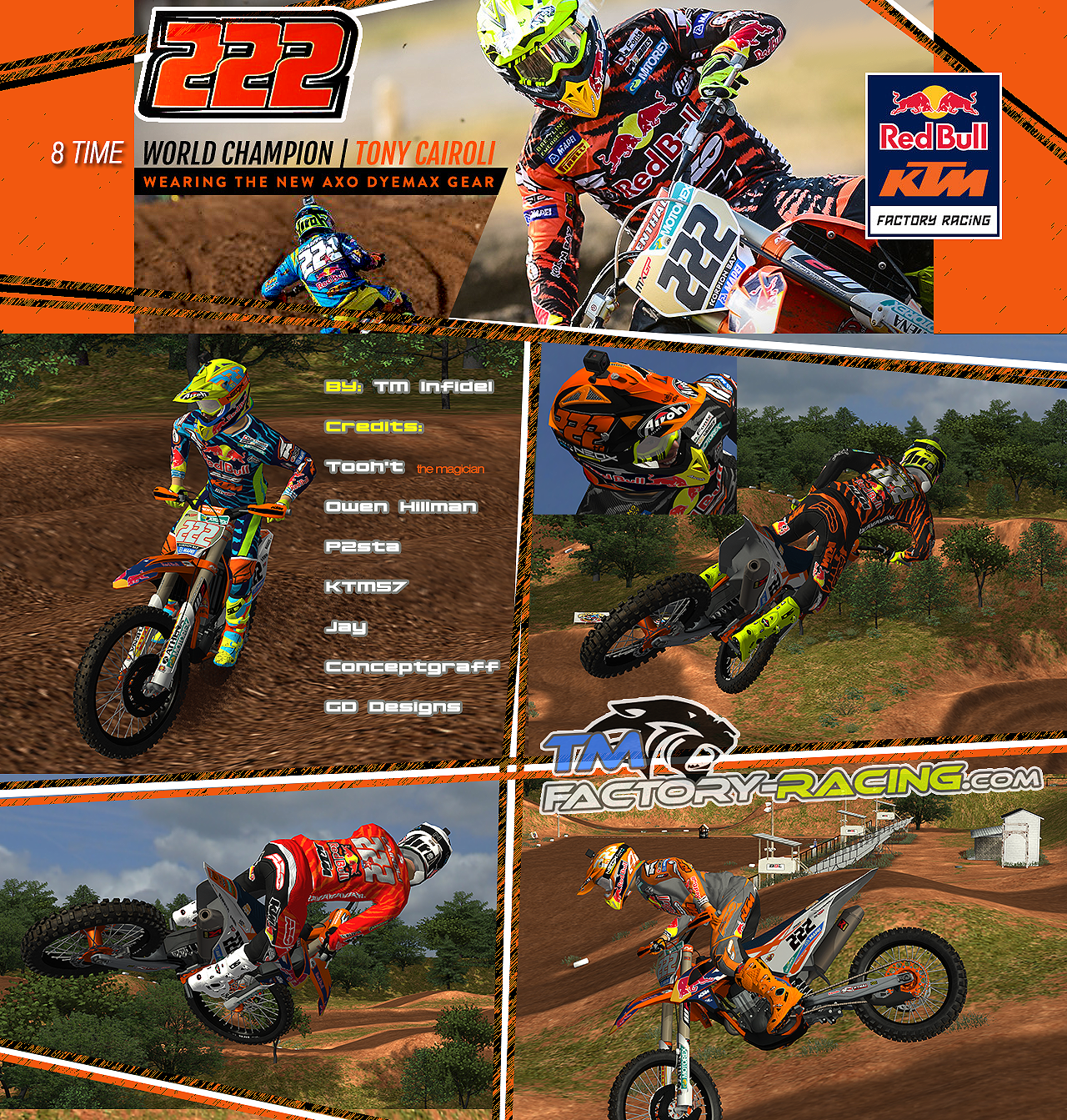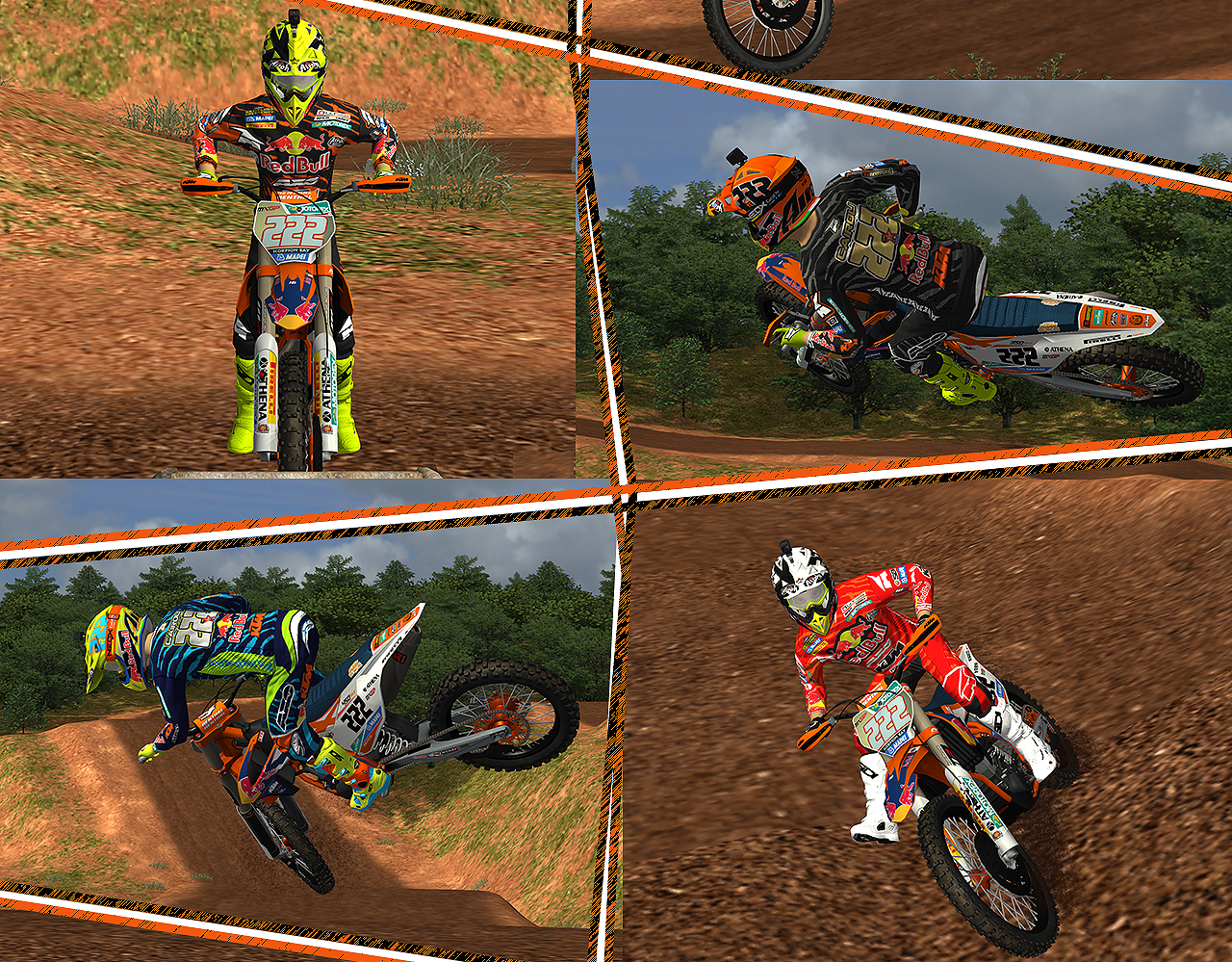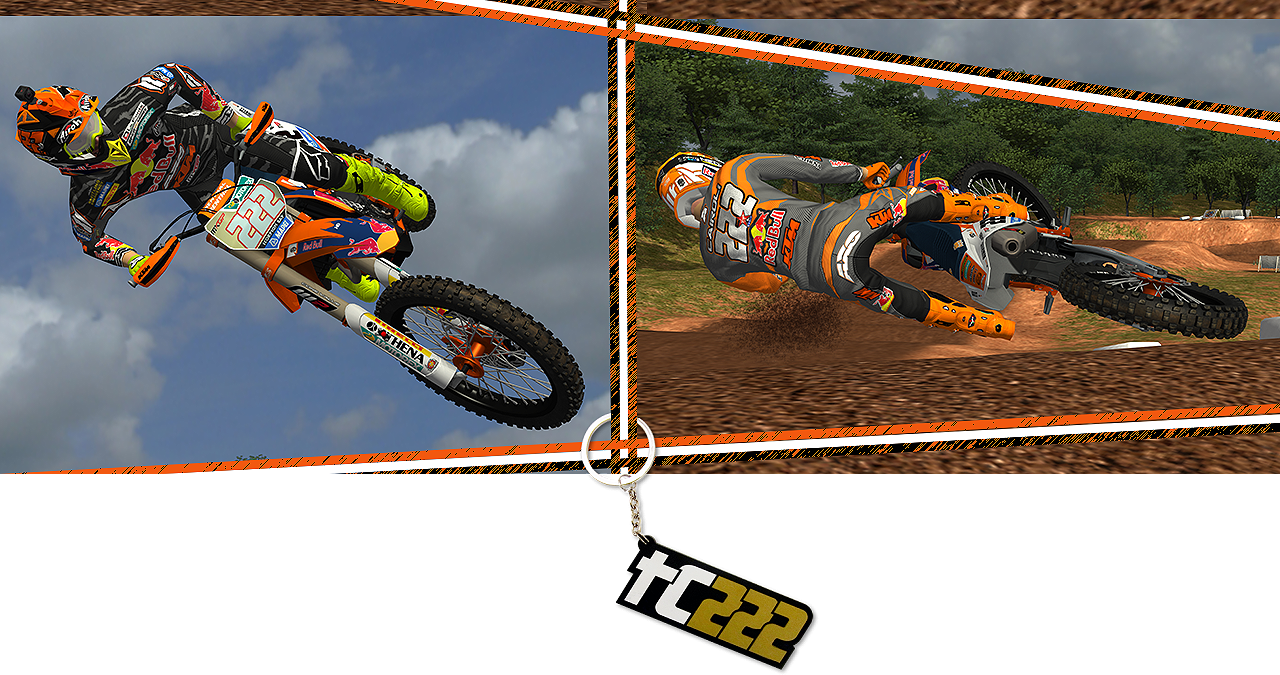 Red Bull KTM #222 Bikes:
(Jay template)
350sxfv2013-2015 Red Bull KTM TC222-Tony Cairoli
rmz450-2015 Red Bull KTM TC222-Tony Cairoli
Airoh Aviator Helmets:
(p2sta/KTM57 template)
rider_head-Airoh Aviator GoPro Hero4S TC222-Tony Cairoli Black & White
rider_head-Airoh Aviator GoPro Hero4S TC222-Tony Cairoli Blue
rider_head-Airoh Aviator GoPro Hero4S TC222-Tony Cairoli Fluro Orange
rider_head-Airoh Aviator GoPro Hero4S TC222-Tony Cairoli Fluro Yellow
rider_head-Airoh Aviator GoPro Hero4S TC222-Tony Cairoli Mandarin
rider_head-Airoh Aviator GoPro Hero4S TC222-Tony Cairoli Red
AXO Dyemax/Motion Gear:
(Tooh't/Owen Hillman template)
rider_body-2015 Sidi SRS2 AXO Dyemax TC222-Tony Cairoli Black & Grey
rider_body-2015 Sidi SRS2 AXO Dyemax TC222-Tony Cairoli Blue
rider_body-2015 Sidi SRS2 AXO Dyemax TC222-Tony Cairoli Fluro Orange
rider_body-2015 Sidi SRS2 AXO Dyemax TC222-Tony Cairoli Red
rider_body-2015 Sidi SRS2 AXO Motion TC222-Tony Cairoli Mandarin
DOWNLOAD:
BIKES:
http://www.mediafire.com/download/icsp7 ... airoli.saf
GEAR:
http://www.mediafire.com/download/dqojd ... airoli.saf