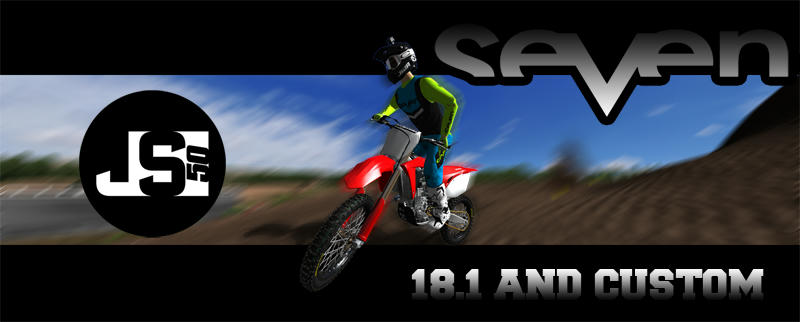 Ah, 1:30 am in the morning and the feeling of finally having finished up a gear release.
I proudly present to you the new Zero Collection by Seven, including Flite and Staple colorways that I mix matched in this public .saf! Yeah the norms are still a little bit messy but already a lot better (I have problems with a lot of "noise" due to the shading). It will show up ingame as "2018.1 Seven" and I tried to give it somewhat of a namesystem that you have to figure out yourself

Thanks to:
- Tyskorn, P2sta for boots and rider model
- whoever made the shading and patterns I used
- Dunlop tires for hooking up great
- FMF for giving me the holeshot power
- wait this isn't a podium speech
PSD (cleaned up very well, easy to work with for beginners, customizable colors)
:
I will try to introduce the "pay what you want" system for this forum. This means, that the minimum cost for the .psd is 2,99€. If you appreciate my work and think about the hours that went into this (and if you look at this super easy to work with psd), you can pay more (I won't accept more than 15€). By introducing this system I hope to minimize leaking, as this is a prize everybody can afford. You shouldn't have to pay at least 15$ for half assed gear psds that other people on this forum release... This way, we can go back to our roots of a fast growing community and still have pretty high quality content.
For the
download
, click on the picture under this sentence.