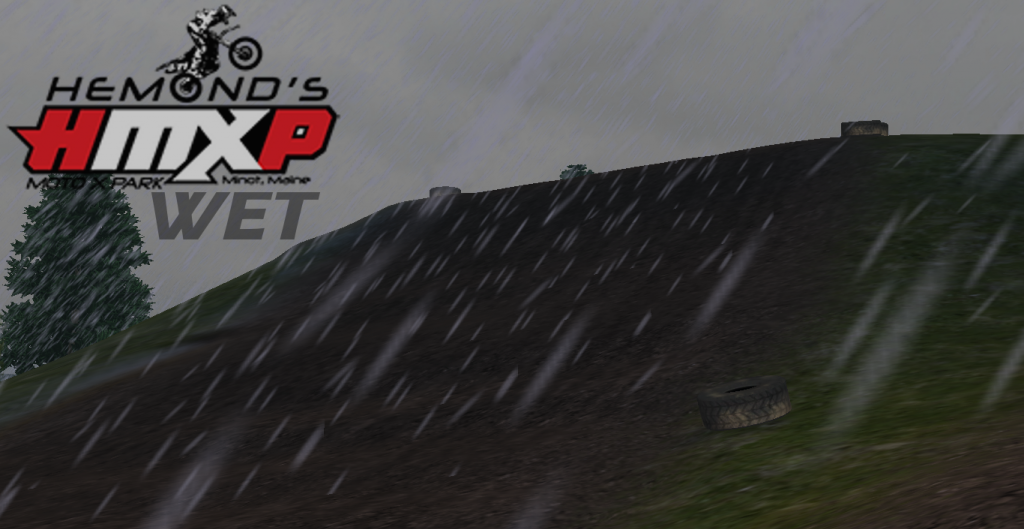 This is a replica of a track in Minot ME. This may be the replacement national for Mx338. I ride here quite alot and spend A lot of time into this track. Each tack has differant environment sorta speak and tracktion. FeedBack is more than welcome. ENJOY!
.SEQ FOR RAIN TO WORK AND MOVE ALMOST NO LAG!!! THANKS TO SANDHAPPER GITTING IT TO WORK!
INSTRUCTIONS:
PUT ALL .PNGs IN HEMMONDS DRY BILLBOARDS FOLDER
PUT BILLBOARD FILE IN WET VERSION AND REPLACE THE CURRENT ONE.
http://www.mediafire.com/?r0hn82fclzanuu0
MediaFire Links-
http://www.mediafire.com/?6dxq3c1vttc68lq
-Dry Version
http://www.mediafire.com/?b8aka9yvsekpxdg
-After Storm Version
http://www.mediafire.com/?6dk6p2kqeuub0uj
-Wet/Rainy Version
Thanks to:
JB323/Jones221/MB-Decals
Twistmoto- Proshop/Barn/Finish Building/Rig/grass
m121c- Building
DJ-Tires/Trees/Washougal Sky
Hagg-GP Bales/sorketorp sky/traction
Paulr093-mudwash sky
Elarma-Height data
Tony El Tigre- Shadows/traction/Flagger
Jermey C.-Track Map
SMR 510RR-Bleachers/Porta Potties
NAUpoiss75-Spazztec guys
JLV-stock objects
Beta Testers.
Guys who made Bobcat/water/rocks/Fence/Van/anything I missed