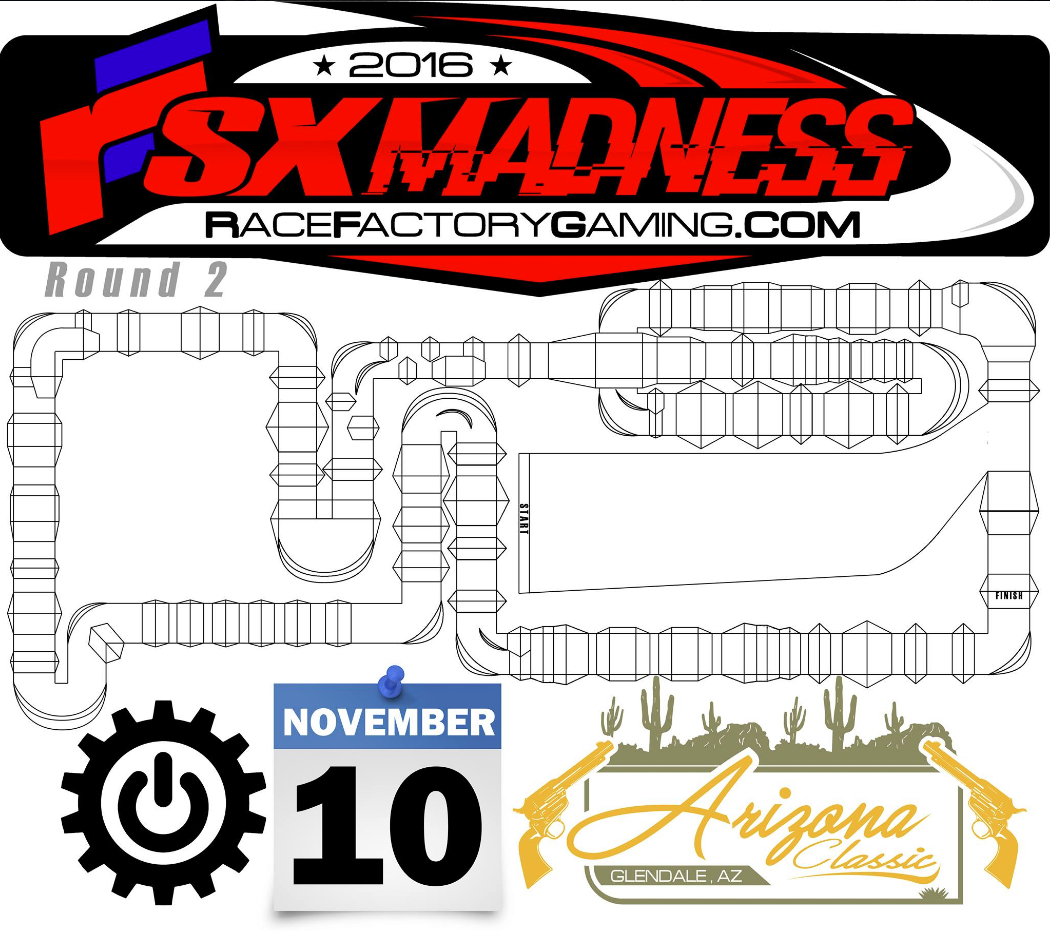 Event logo by Jason Felkey, Video by MotoChasin, Track Map by SYStv
Welcome to Round 2 of the 2016 SX Madness Series hosted by rF Gaming!
The Arizona Classic marks Round 2 of the SX Madness Series for 2016, as the top racers in MX Simulator take over University of Phoenix Stadium in pursuit of an off-season SX rF Championship.

The Arizona Classic track is built by Checkerz, and it is inspired by the 2009 St. Louis SX designed by Travis Pastrana. With many split lines and options for the riders; passing opportunities will be at a maximum.

"The goal was to push the envelope with something new and exciting for the riders and maximize the battling opportunities. A lot of work went into the design ensuring 2 and even 3 options in some sections ride equally as fast to not create a narrow 1 line situation," stated event designer and creator Checkerz.

He continued, "It will be interesting to see how the Arizona Classic track gets dissected by the riders Thursday night with only an hour to learn the track before the gate drops on the first race. With all the split line opportunities, it'll be like learning 2 tracks instead of 1 in a short amount of time."

Be sure to tune in to Start Your Systems on Twitch Thursday night to catch all the action live.

PASSWORD WILL BE RELEASED at 7:55 CST on 11/10/2016
Special thank you to so many people making this series possible...
Michael Wheeler - rF Gaming
Kellen Brauer - SYStv
Jason Felkey - Awesome series and event logos
Jay Andrew - Being awesome
Kyle Watts - Making shit happen
Stephen Barrington - idk, I'm sure I used something of his
Race Karlin - Stealing Jay's decals
Alex Lewis - Decknals
Jason Stewart - Modeling...no, not nude
Blake Shiman - Hosting the party
Peter Leik - Hosting Sunday Funday
Jeremy Shipley - Modeling a finishline and not finishing it
Alex Effertz - More than I can ever thank him for and actually finishing Shipley's finish line
Chase Dunivant - Video taping the party
Brady Standley - Moral Support
Craig Richards - Making me feel good about myself by sucking so bad
JLV - Cracking the whip on the kids
Sammy Holt - Calming the rage by providing extra servers
Josh Mehrtens - Building walls and expanding borders
Anyone else I forgot, I owe you a beer or thirteen.
http://www.mediafire.com/file/9jj6y2nz8m0l41w/PW_finale_sxmadness2016_rd2_phx.rar