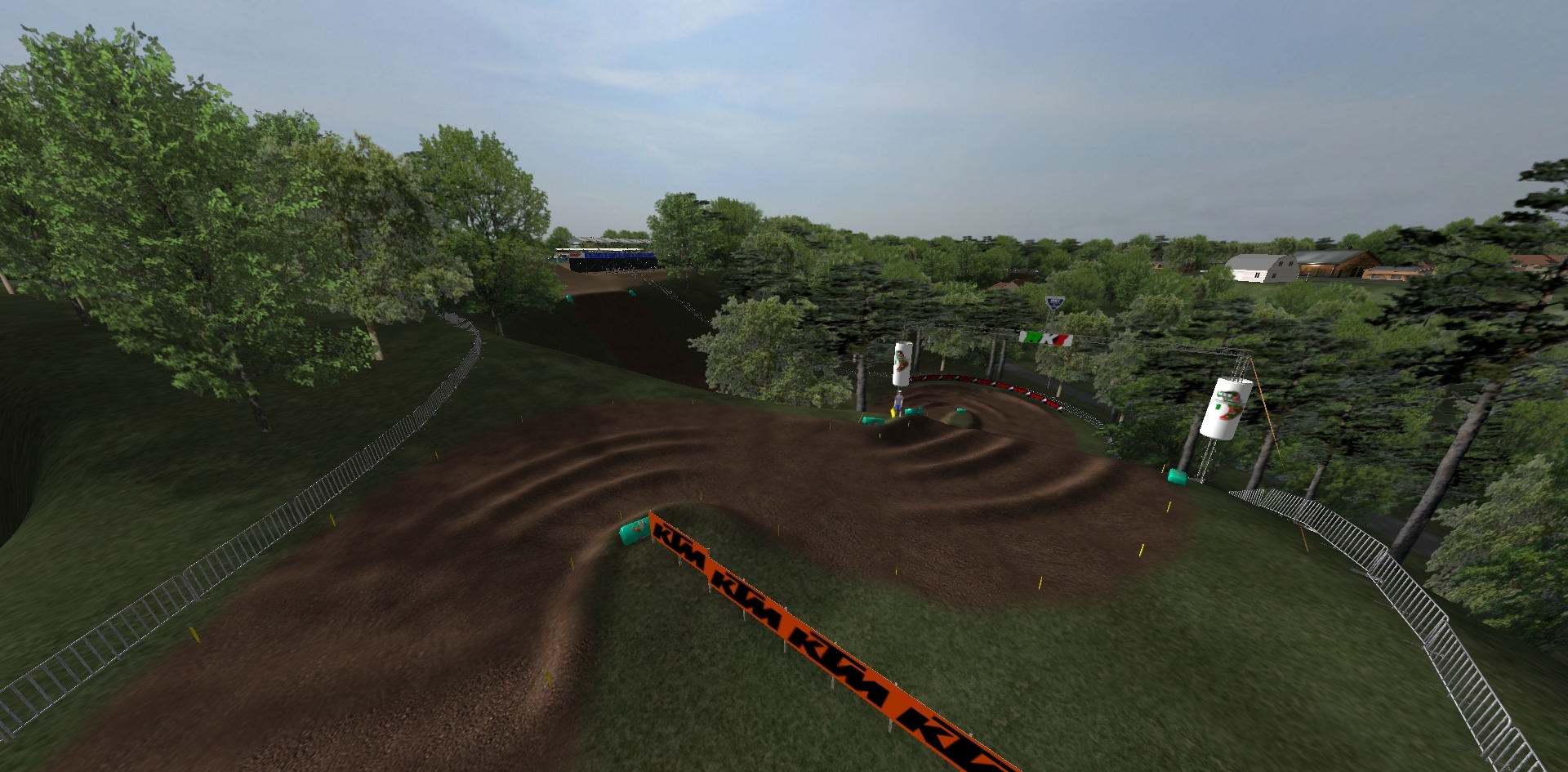 The track:
Probably the young teenagers won't remember what the motocross track of Namur was like, because its roots belongs only to the past, as unfortunately, from 2008 on the Citadelle didn't host races anymore due to safety conditions. On the other hand, the mayor guys will clearly remember all the great battles there...the protagonists were names like Stefan Everts, Johnny O' Mara, Roger De Coster, Josh Coppins, Eric Gebores and so on. Namur hosted tons of races from the '50s and in particular 5 Motocross Of Nations (1951, 1956, 1959, 1965, 2001), that suggests how the track was important and how spectacular it was. The layout didn't had great changes and mainly was build like this: it started from a really large square where the theatre was located, then a down-hill jump introduced the woods, riders had to ride between houses, rocks, trees...after comes the first double step-down (the most brave riders doubled both of them

), then a single step-down and another double step-down. At this point the track joined the street where the Namur cafè was located (not a pub anymore unfortunately): in the 1988 GP, Håkan Carlqvist won his last race and he stunned the spectators by stopping before the end of the 2nd moto to drink a beer, while leading the race by somewhat 50 seconds, and going back into the race to win it. That's awesome


Then followed a pretty long double jump to the double step-up, and...here comes the most beautiful part of the track: 4 massive up-hill jumps just near the castle of the Citadelle. Today that part is still alive and is used for mountain biking (like the rest of the track anyway). Then a pretty steep down-hill to the final jump into the arena once again to start a new lap.
Every rider who raced at Namur said he had had great times, the track was awesome and the atmosphere too and that's a pity that everything stopped after so many years of racing with people stunned by the beauty of those days. Despite that, we seriously hope a come back in the future, possibly very soon


In 2015 MXS Italian Championship, Johan Roger succeeded to win the overall in the Pro class followed by Ben Seaburg and Jordan Boyer. On the other side, in the Amateur class, Maxime Vanderbeek won the overall, Niko Sollmann 2nd and David Debealieu 3rd.
Last year, in the Pro class Connor Lynds managed to take the overall win followed by Frederik Van Eckhoven and Damien Mayer. In the Amateur mx2 class, it was the RKI mate Andrea Di Pietro who won the overall, Matthias Havy 2nd and Luca Cavallero 3rd racing as a wild card for that round. In the Amateur mx1 class Thomas Jaz arrived 1st followed by Christoffer Jonsson, Alban Dubois 3rd.

Download:
High resolution - 153 Mb
Medium resolution - 87 Mb
Medium resolution with no trees- 84 Mb
Low resolution - 61 Mb
Low resolution with no trees - 60 Mb
Superlow resolution - 51 Mb
Credits:
- JLV
- TMFR
- EMF
- RKI/JDS Italia Racing Team
- Matteo Gusmerini
- Checkerz
- Motoboss
- Kyle Watts
- Staydown
- Rafagas
- Haggqvist
- Twistmoto
- JGMX
- Anyone who i forgot