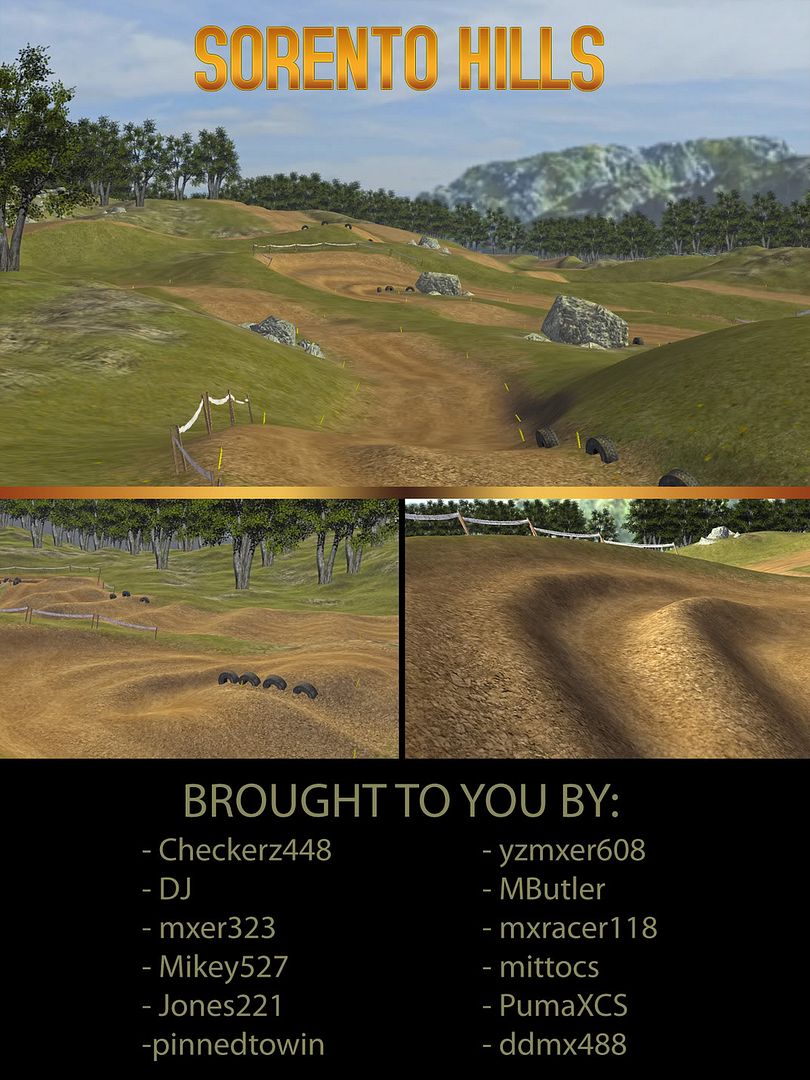 Hidden in the Sorento Hills of California lies a majestic motocross track set to test the skills of even the best riders. Known for it's dusty hard surface, challenging jumps, and multi-lined layout, Sorento Hills is always a favorite stomping grounds of riders from around the world.
Sculpted into the hillsides by the experienced track creator Checkerz448, and run by the powerhouse group, xfire productions. DJ and mxer323 ensure the track is always looking top notch and Jones221, Checkerz448, and mxer323 pound every stake to mark every corner. Professional riders Mikey, yzmxer608, mittocs, PumaXCS, mxracer118, and pinnedtowin are constantly testing out the new jumps to make sure the track keeps it's epic image. ddmx constructed the finish structure while mxer323 created a fabulous banner for the legendary course. Last, but certaintly not least, MButler, better known around these parts as the infamous Enduro Man takes a break from creating event fliers to be certain that all the off track is rough and grueling to test even the best enduro riders.
Hope you enjoy the track as much as we enjoyed creating it. Thanks again to the whole team who helped put this together, without each and every one of you, this wouldn't be possible.
Load up some tear offs and let's moto! We tried to ensure this would run on all computers, so no high poly trees in this bad boy.
http://www.puremxs.com/Tracks/TrackViewer.aspx?TrackID=185