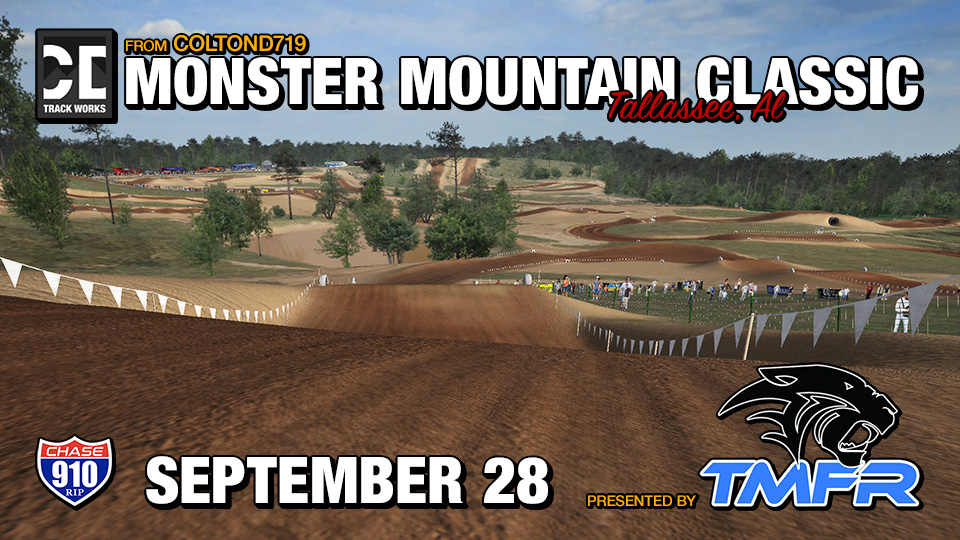 TM Factory Racing is proud to present ColtonD's latest track release!
The plan is to have 1 open class with 2 motos, to hopefully fill the gates. The moto duration will be 25+1, and the qualifying motos will be 5 laps each. This track is brought to you by ColtonD.
Qualification
1 class, open for everyone.
Server will be EMFQ6.mxsim.fr:19809
Qualification opens: Monday evening
Qualification ends: Thursday at 20:00 / 8PM CEST (8pm time according to Stockholm / Sweden),
1 hour before the race
The qualification will end 1 hour before the race so everyone know whether they got their time in or not.
Race schedule
Race is held on the
28th of September
You can see the racing server on the website once you're signed up
20:00/8:00pm: End of qualification
21:00/9:00pm: UID Grab, riders list announcement
21:05/9:05pm: Parade lap followed by the race
21:35/9:35pm: Parade lap for moto 2, followed by the race
Host:
Storken (Kristoffer Wenerklang)
Rules and Regulations
Check EMF 2017 rules here
Rules are to be the official EMF rules linked above.
Inappropriate behavior will result in a ban from the race.
Asking to be put into the race repeatedly will result in a ban from the server
Let everyone do their qualification laps. If you've gone down, let the others do their laps. Being in the way for others during qualification will result in a ban.
Have fun
Signup link:
http://mxsemf.com/xraces.php?race=583
Track link:
Monster Mountain Classic