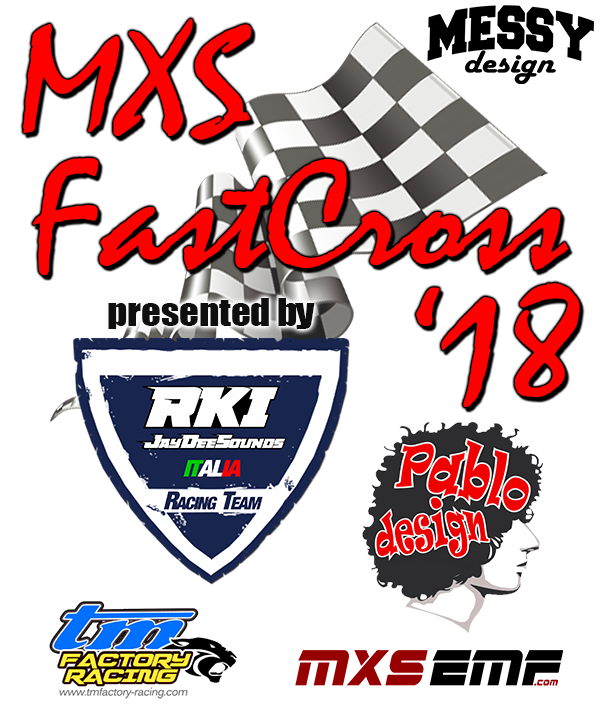 Hi riders! Welcome to the 1st ever Fastcross event organised on mx simulator!
After the 2017 ITC we mentioned that something was going to happen, so here we go!
Not many of you guys, we suppose, know about the Fastcross race held in Arsago Seprio (Italy) in the '80s and '90s but this was an unique event at that time in which took part the fastest riders all over the world including USA as well. In fact, Jeremy McGrath, Mike Larocco and Larry Ward were usual guests there and came every year. Those years saw great battles between great riders (just to mention other names: Everts, Puzar, Chiodi, Stanton and Parker) from 1984 till the year 2000, after that year the event was sadly stopped.
The track was an hybrid between mx and sx, is was located near the Malpensa Airport, next to Arsago Seprio and was built on a natural hill. Of course it required different rider's skills because there were whoops also and American riders could be of course advantaged. The mx/sx layout was designed to attract them and surely the sx schools helped a lot: there were spectacular tabletops, doubles and triples, even kind of rhythm sections. There's no need to say that only 2 strokes were used as it was an old event and 4 strokes were still not that developed, we will use 2 strokes as well in the mxs event.
The track layout designed for mxs deals with the year 2000 so the last ever Fastcross event organised, trying to drag you guys back into an old atmosphere and to reproduce almost everything in its particular.
The track is meant for erode use
but it won't be completely flat: we put starter ruts and bumps, very low ones if compared to my track style without erode, in order to help erode work better and not to see one lined races.
Don't forget to follow our
team page
on Facebook and the
YouTube channel
for more updates on tracks and stuff.
Let's get started!

Please remember that this event is not official, it's free, you won't need any pass for racing or download the track!
Event precisions:
4 classes:
- Pro 125: Pro + A licenses, only 125 2 strokes
- Pro 250: Pro + A licenses, only 250 2 strokes
- Amateur 125: A + B + Amateur licenses, only 125 2 strokes
- Amateur 250: A + B + Amateur licences, only 250 2 strokes
If you have the A license you MUST TAKE PART IN THE EVENT ONLY ONCE, it's up to you whether racing with pro or amateur according to your skills. If we see people racing both sides they will be disqualified from the event.
Event calendar:
The event will be divided into 2 days to keep a better organisation:
1st day: 15th February, only Pro class splitted into 125 and 250
2nd day: 22nd February, only Amateur class splitted into 125 and 250
Race format:
- Pro (both 125 and 250): top 30 qualified for the race, 3 motos 12+2 each
- Amateur (both 125 and 250): top 30 qualified for the races, 3 motos 12+2 each
If you are out of the qualy list do the uig grab the same, you will probably get to the race if there are empty spots
Qualification:
Qualifications will start Tuesday evening at 7 pm alongside track releasing until Thursday evening at 8 pm
Qualification servers: teamitaly.mxsim.fr:19802
Race schedule:
Race server: teamitaly.mxsim.fr:19802
8:00 pm CET: Ending of the qualification
9:00 pm CET: UID Grab
Coming up... (approximately)
9:00 pm CET: 125 moto 1
9:20 pm CET: 250 moto 1
9:40 pm CET: 125 moto 2
10:00 pm CET: 250 moto 2
10:20 pm CET: 125 moto 3
10:40 pm CET: 250 moto 3
Rules:
We will use EMF rules, moreover other violations like the ones listed below will be punished according to the RKI/JDS verdict:
- Back-up on starting line
seriously prohibited
- Trying to close jump or overjump them during 1st lap even if you know you are going to land on someone's head
- Cause huge crashes during starts
- Unsafe track re-entry
- Attacking other riders in the race thread
- Cutting track and gaining an advantage over other riders
- Purposely taking out riders
- Taking out the leader, while being lapped too
- Purposely holding up the leader for 3 or more corners
- Aggressively re-passing leader
- Cross jumping the leader
- Going backwards on the track
- Impersonating another rider
Protests:
Use the protest sistem on the EMF website or send us a PM explaining the accident, we will re-watch demos carefully.
Streaming:
Any streamer is welcome