REPOST from Models & Skin Editing:
RIPPED Models from MXGP3 / MESX used in MXSIM
It's time some clowns were exposed. I'm calling out the rippers of Milestones MXGP / MESX models who use them in MXSimulator including a few competitors who know these models are ripped from another game but acquire them to use in official mxs series events which goes against jlv's #3 golden rule as listed:
3. Do not post or request anything illegal. This includes copyright violations such as 'ripping' other users content or content from other games. If you violate these rules, you will be banned. The duration depends on how bad it is, but most are permanent. The forum admin reserves the right to enforce or not enforce these rules unfairly and hypocritically.
You can draw your own conclusions and comment accordingly. I've highlighted the TM bikes below for both MXGP & Sim which sounds biased but i think i know them pretty much back the front in both games to help bring things to light. I hope these clowns are dealt with by jlv, as well as EMF, rF and other reputable competition series hosts.
I've made some great friends from France in sim over the years where sadly most of these clowns who rip reside. Don't get me wrong France is a great place including its people which i have experienced first hand but like all it has its own parasite infestations. Perhaps ripping models is a spin off from the "desperation or lack of new content being shared" in sim in recent times or the pay for everything attitude regarding models between the new breed & have and have not's with a touch of general "high nosed" superior snobbery thrown in same as irl. Even so ripping stuff from other games is against sim rules and those responsible need to accept accountability like those before them imo.
I like many others appreciate what jlv as a one man band has created and am sure there are reasons why he hasn't employed 1-2 extra part/full time staff to create annual models and parts for all to receive via update packs for a fee so we all have equal choices which seems a more worthy way plus give back to jlv, cover ongoing costs and "make sim great again" while helping to reduce the effects of a community imploding when signs are there but i just can't pinpoint them yet.
The following dudes are obviously friends, some have skill sets but lack any sense of respect.
I'm calling out:

FrcD / Flavien Clementine
FB:
https://www.facebook.com/FrcD07
https://www.facebook.com/flavien.clementine
(follows all the usual suspects)
Fr aka "Le turd" is pro-active in ripping models from either or both MXGP3 / MESX then edits them with various adjustments or parts to use in sim & sell for profit at everyone's expense. You can check his sim posts and go find the same bikes via google or the steam community hubs for mxgp / mesx if you have an eye for detail. Creations look questionably legit in the forums either due to being renders or using sim wheels used on milestone bikes. Most peeps just can't tell the difference if ripped or not so it seems.
FrcD forum posts:
search.php?author_id=15585&sr=posts
LC Créations_ / Louis Cocquet
FB:
https://www.facebook.com/LC-Cr%C3%A9ati ... 882361474/
Loui aka "Le croissant" uses ripped models in sim / sells for profit also at everyone's expense:
LC forum posts:
viewtopic.php?f=25&t=49338&p=828898#p828898
- a few interesting lids and stuff used not yet avail in sim but are in milestone games if you look close enough.
search.php?author_id=18409&sr=posts
https://www.facebook.com/cross.man.5070
(congrats on his marriage to his BF)
New forum name now possibly W2K (ripped lid & same trademark pics as LC Créations_?)
Enter ..
"POWERSPORT"
a current French mxsim team using ripped models in EMF Pro 450/250/125 online series competition.
Anthony Rouillard
FB:
https://www.facebook.com/ARDesignMxs
https://www.facebook.com/anthony.parigo
A great source of ripped models on here courtesy of their buds. Hard to tell what is ripped or what isnt? ..cool to see them frame "FrcD" and knowingly accept ripped models for their 2018 mxsim outdoor setup. Why we can't download their swag via the EMF EU skins thread i wonder ..or view in competition vids or demos ..oh wait here's one:
https://www.youtube.com/watch?v=TU6LYpf-UQo&t=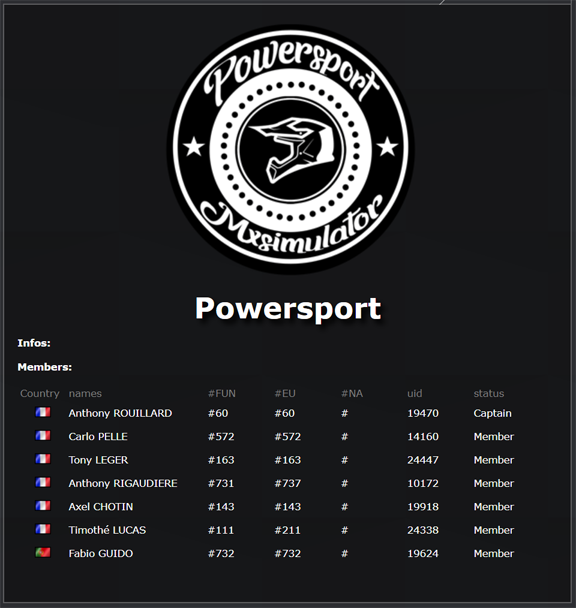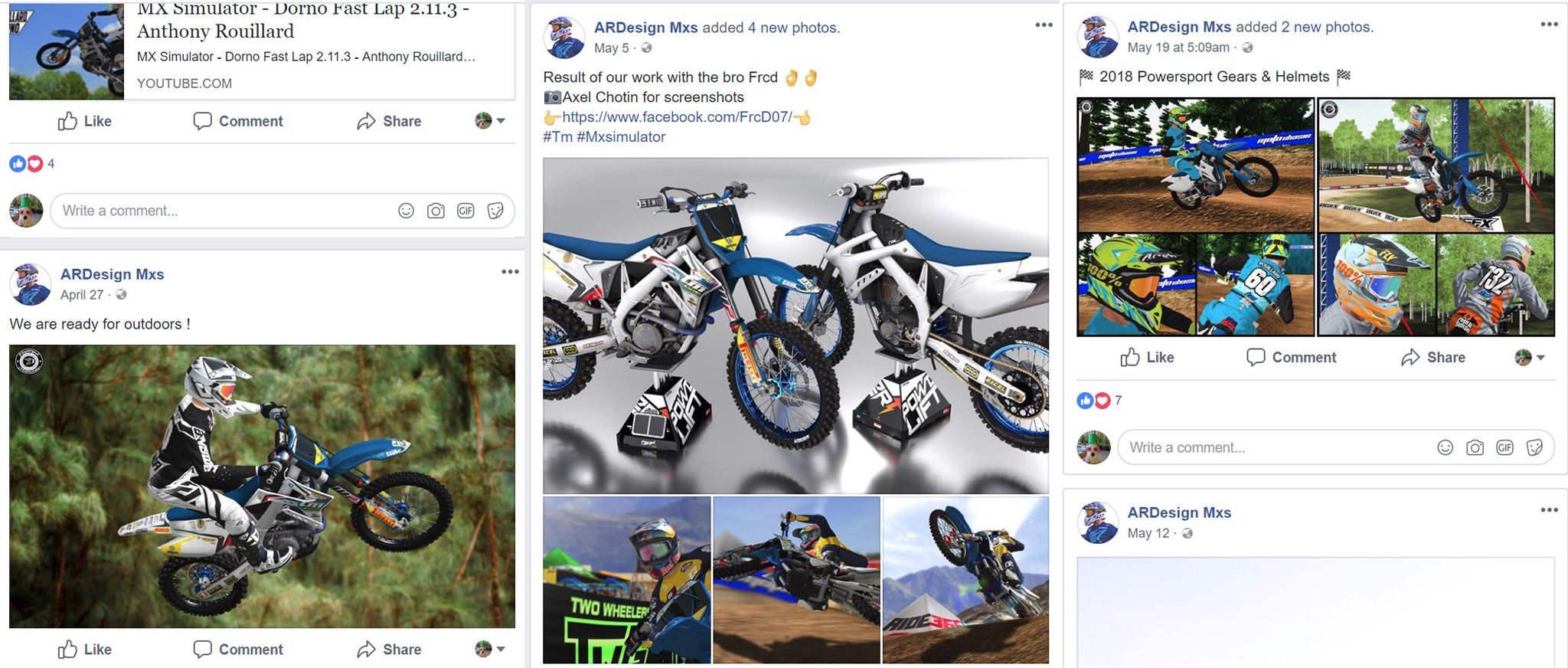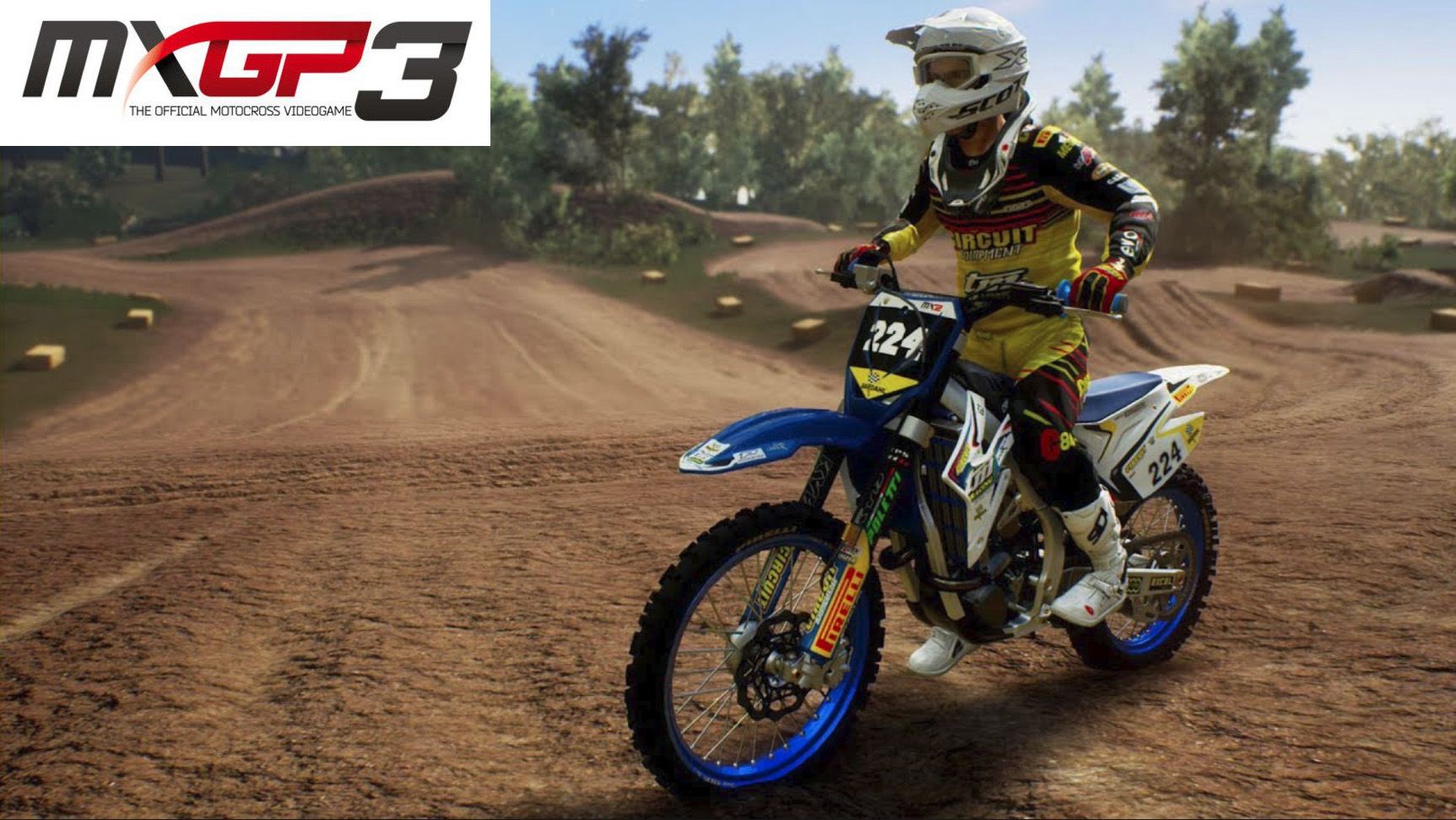 MXSim TM by FrcD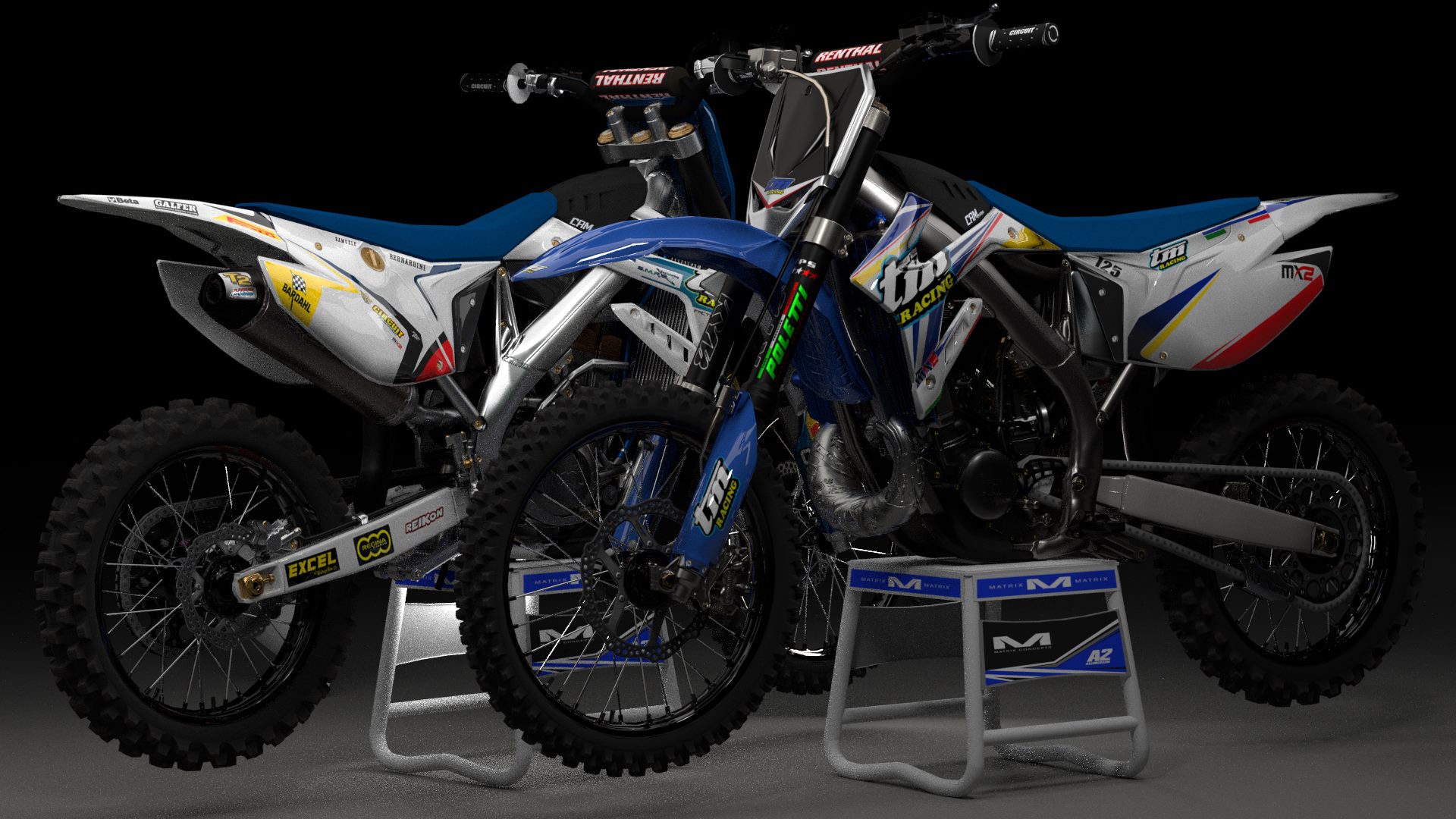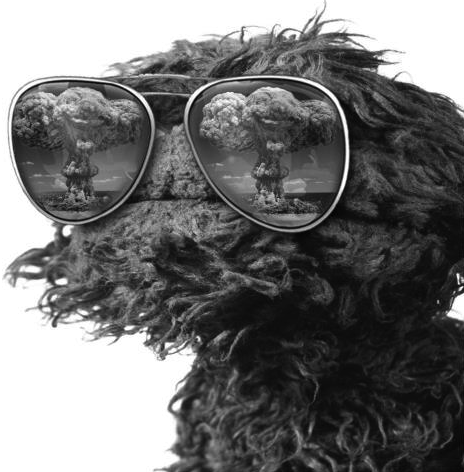 C'est la vie baby