---
FYI - for those asking and/or wanting to know more about erode direction.

I'm doing my best to find settings that create an actual gameplay change for rutty track conditions. Thus far, the approach for the offseason is to find something that works for "worst case" scenario and then dial back from there.

Basically, what you played tonight would be Seattle. West coast rounds would see 1/3 of that, east coast 2/3.

At least that's my thoughts anyways.
---
Posts: 1246
Joined: Tue Sep 25, 2012 10:41 pm
Team: Britney
Location: Spears
Look at all those 450's, then that 250 dead last hahahahah. Thanks for hosting tonight boys.

---
checkerz wrote:
Thank you for the explanation of what the tests are for. so ill set aside the erode comments, but ill say that the erode tonight was very chattery and had massive kickers.
I think that the track scaling was very inconsistent. Some sections were really tight, and some were way too spaced out. The jumps were also way too peaked. id barley case and get a legs off and i have a pretty nice suspension. Also the jumps there are the "5" in a "3 5 3" are too tall imo. other than that i think that everything was fine
The lighting also has some blind spots in the erode. there are somethings that i couldn't see. My main example was going across the start straight going into the corner. Id ease onto my front brake and it wouldn't be in a rut that was invisible and id tuck the front end, legs off then slide
---
Posts: 768
Joined: Fri Nov 24, 2017 3:16 am
Team: Bruhhtopia
Location: Cold
imo the erode tonight was a lot better. There were actually multiple lines forming and the main ruts didn't get super large either. I thought the beginning to the middle of the race was weird because all the lines were forming and such, but once lines started forming towards the end of the race, I thought it rode sick.

On the track side of things, track scaling was a little weird. It felt really peaked, and felt about the same width as the opening day. It may be wider without bales, but with the bales added it makes it feel about just as wide. The actual scaling in height wasn't too bad on the opening day, I just felt like it needed to be wider and maybe a little more spaced out.

Thanks for hosting.
---
Thank you for the feedback, I appreciate it.
---
Glad to hear an explanation on the erode lately because I was starting to get concerned that every sx was going to be outdoor roughness or a mudder. At this point im starting to think for sx we need erode only in the whoops, a select few corners, and a select few jump faces, and thats it. Obviously for east and Seattle increase the areas.
Not seeing the aggressive amount of ruts/braking bumps
lil 2016 coop
I could post more, I guess my point is erode is and has been way to aggressive in 90% of the situations, I understand now your current testing but I still think it is flawed compared to most supercross tracks. Ruts on jumps/rhythms(some parts)/whoops definitely needed. However corners need to be lowered about 80% in most corners, choose a couple to have more erode. Don't get me started on straights, that needs to be lowered about 98%, a few small chatter bumps makes more sense. Anyways this post got carried away, just thought id give my unwanted 2 cents. Hopefully this is taken constructively and not any other way as I appreciate all the hard work.

---
i feel like the erode is very good at the end of the moto, just very chattery for the first 10 mins
---
---
so heres where you know what was invisable for me. The circled parts the lighting wasnt showing these lines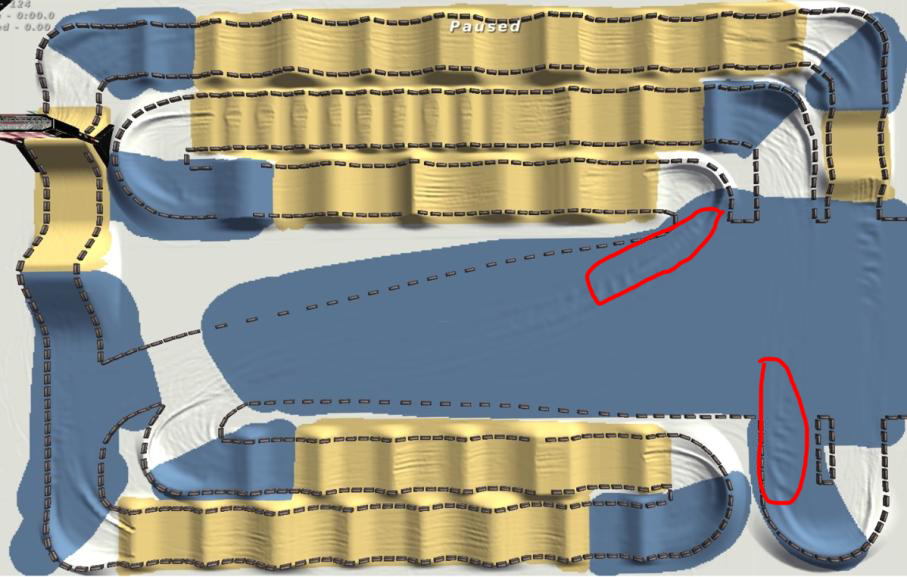 ---
MOTOZ293 wrote:so heres where you know what was invisable for me. The circled parts the lighting wasnt showing these lines
The things I'd do for a lighting update to see erode. I'm over 150 hours invested and it's the thing I've asked for most because it's what I fight most. I think erode has come a long ways, but it'll never be exceptional until you can see it better.
---
---
Who is online
Users browsing this forum: Itz Raidox and 5 guests