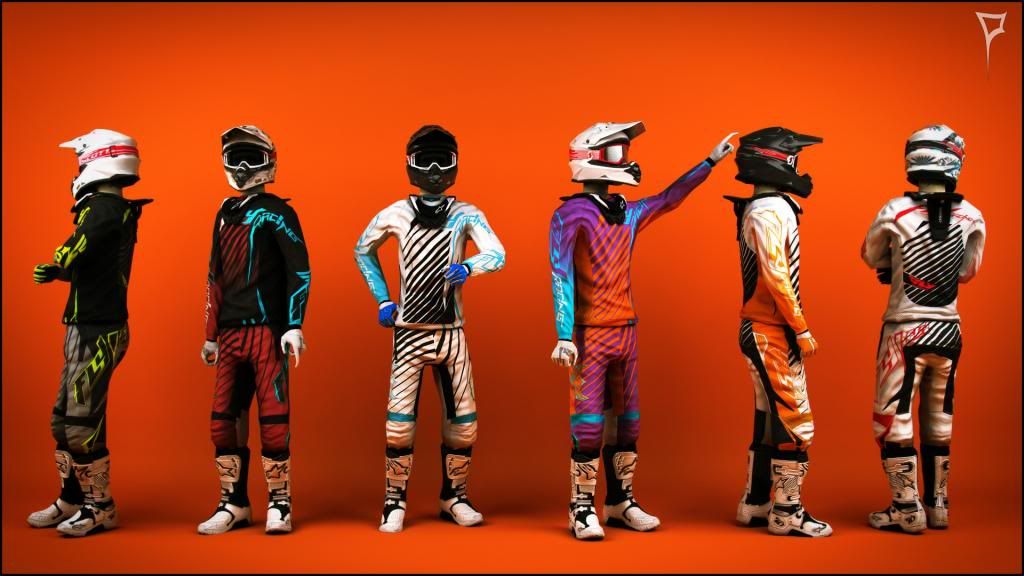 Here is my 2013 Fly gear I've been working on lately, has every single color way of the RS and Mesh lineup, not only that but also the Pro Lite glove. I know in the render that the lines on the front of the pant don't match up (at all

) but I have fixed it for the final release. Had a lot of fun making this gear and learned a lot from it. Seems I learn more and more as I make more things, and I'm definitely stoked on how this gear turned out. Hopefully everyone enjoys it as much as I did making it!
Also, there will be a template released at a later time, just be patient. There are 2 teams who I have already promised the gear to and that's my limit, due to them having the gear for their team gear I will not be releasing a template until they are finished with the gear. So please do not ask me or pm me for the template as you will probably will not get a response or a not so friendly response at that.
To all the people that I gave a previous beta copy to you, I would like to thank the ones who were respectful and didn't give it out, 25 downloads wasn't something I expected when I looked to see who all have downloaded it. Its my fault for allowing more than a couple trustworthy friends have it, and learned from it, so do not expect anymore beta handouts from me. One person ruins it for all and I really don't care who it was. Anyway with all that said, if you do have one of the beta's delete the old one and put this released one in your personal folder.
Credits and thanks to:
P2sta- P2sta3 model, neckbrace, and the sick render!
DJ99X- Normal Map bakes and AO
Stevo- Giving a really helpful normal map tip
Giopanda- Tech 10's
Motosport crew and everybody else for the awesome feedback and Tony's good story time in TS while making this gear.
Jlv for making this game and allowing open source content.
DOWNLOAD