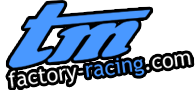 Hi guys,
Finally, I was able to find some time and release these bikes.
Also seems that I unfortunately need to quit creating things for the MXS community, I'm currently living some very busy moments and as you can notice I can barely answer to your Pm's..
So I'm going to make this one simple, have fun with the model and respect the saf.
THANKS TO:
- Me for the bikes
-
Tm factory-racing
as a sponsor of the project and co-owner of the template.
Also I need to thank John (JvdL) for the awesome tips and motivation, made me try a lot harder.

DOWNLOAD:
http://www.mediafire.com/download/egd5y ... ck-Jre.saf