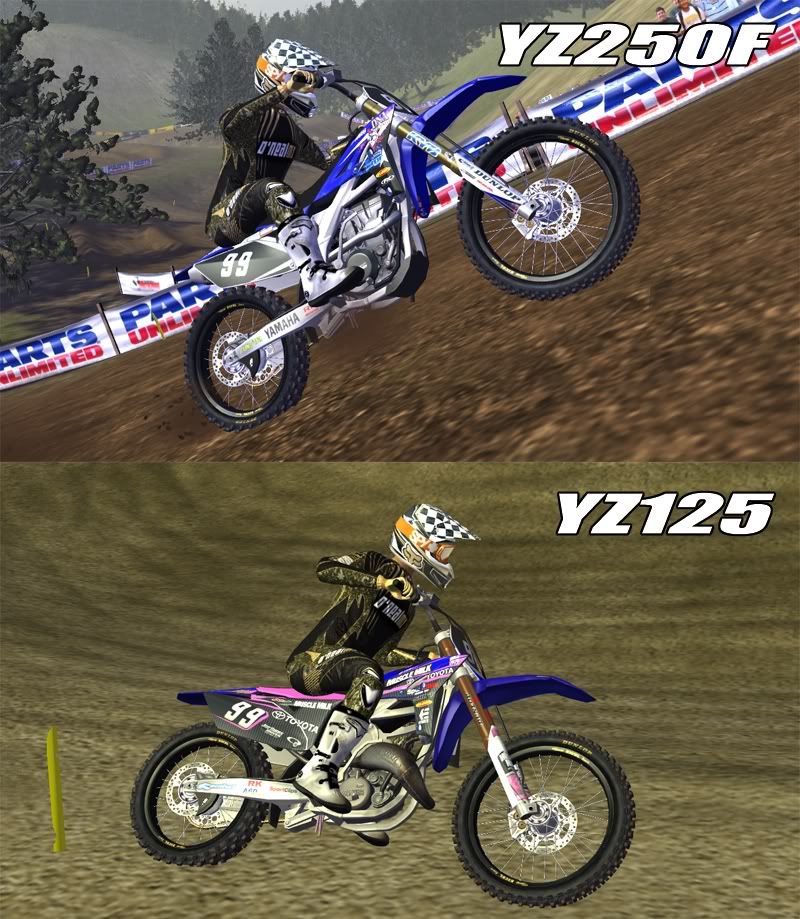 DOWNLOAD HERE
Hopefully... there is nothing wrong with the link, or any thing included within.
Hopefully... I will never have to upload this again
Download contains: 2010 YZ125, Updated YZ250F, New Skins
Instructions: Remove previous YZ250F .saf. Put all included .saf files into your MX Simulator / Personal Folder. If you run the game at a ridiculously low model geometric detail, it might be better to remove the lod packs in order for the HD models to show up. This will make the game run worse. Therefore its probably a better idea to get a better computer, or just run the stock models.
---------------------------------
Credits:
- Model -
DJ (many of the parts, completion of the bike), WilsonATV (YZF base), Eskwaad (Front end parts)
-Textures -
Metals: DJ, hvpunk
Engine: DJ
Plastics and other: DJ
Akrovpovic and FMF exhaust: mxracer118
125 expansion chamber: hvpunk
Normal/spec maps: DJ
Also, thanks to Messiah for alot of tips!
---------------------------------
Included skins (creators credited). (bb=black backgrounds, rb=red backgrounds, wb=white backgrounds)
All mentioned skins are also included on the 125
yz250f-2010 Stock-
Blue (goardy)
Blue+bb (goardy)
White (goardy)
White+bb (goardy)
2011 (yFMX) ***new***
yz250f-2010a- (uses Akropovic pipe)
Rockstar 5050 (REIDY-171)
San Manuel Blue (mxracer118)
San Manuel SE rb (Mr Two)
San Manuel SE (Mr Two)
White Rockstar (v3nx) ***new***
yz250f-2010f- (uses FMF pipe)
Fox Vortex (kawasakis)
Hostility (Smokecheck, uses his own Dr D pipe)
JLAW (Mr Two)
MotoConcepts (bRANDY#09#)
DNA Shred Stix (yFMX) ***new***
JGR (KTM57) ***new***
JGR Pink (KTM57) ***new***
yz250f-2010p- (uses Pro Circuit pipe)
Cheap Monday (goardy)
Serco Answer (DJ)
Serco Pro Taper (DJ)
Team MGSport (yahama)
Team MGSport wb (yahama)
Deft Family (ryan6138) ***new***
Hart & Huntington (ryan6138) ***new***
SE Red (yzedmxer608) ***new***
Disclaimer: Anyone caught ripping any of this material gives me the right to ban their MXS multiplayer account
If you are desperate to use any of my stuff, let me know and I'll see what I can do.
Y'ALL ENJOY IT NOW!
Now... to start a competition track